Tryst or Bust: Is Tryst Escort Site Worth the Hype?
Tryst.link is one of the largest escort services worldwide. Hosted by Assembly Four, which also owns Switter (the adult version of Twitter), this independent escort website features escorts from the US, Europe, Asia, Canada, and the UK.
Every escort is individually verified, so whether you're looking for a complete night companionship or an erotic massage afternoon, you can get a hot girl with just a few clicks safely. Read on to find out how our experience with Tryst.link went!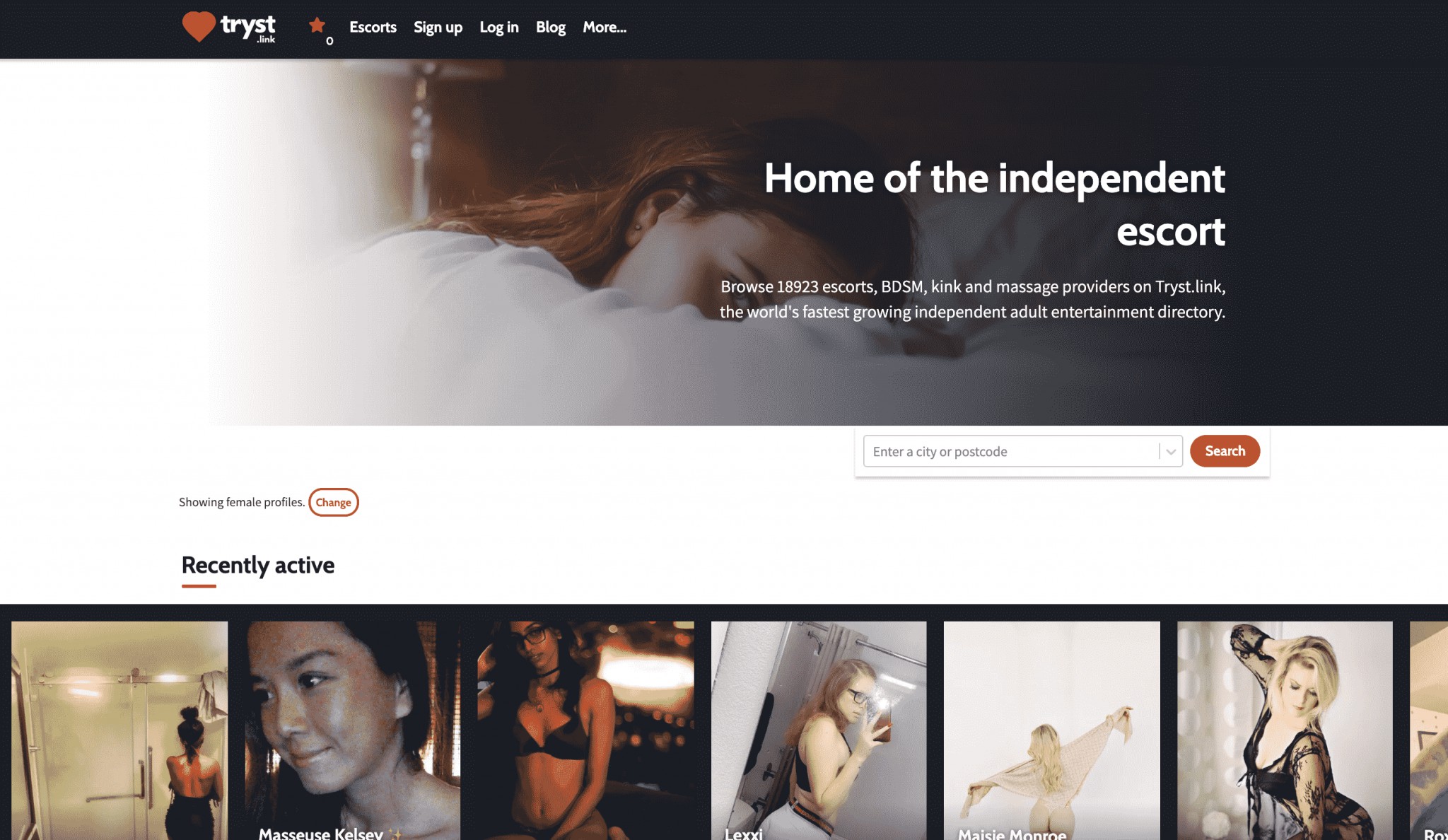 Tryst.link site design
The site looks nice and is well laid-out. And because it focuses on user experience, you'll find tons of photos on the homepage. The site is easy to navigate, and the information displayed is high-quality. But even more interesting, the individual listings look great.
Visitors have a ton of space to introduce themselves. Looking at the navigation tabs, there's no doubt the website is easy to use. You'll find the rates well displayed, and details of the availability of escorts.
While the search interface looks basic, you'll enjoy the elements on the site, as well as how easy it is to hook up with a hot escort! Depending on the service you're looking for, you can use the filters to search for the location or any other term.
Signing up for Tryst.link
Once you click the join button, you'll have an option of a provider or the client. The system will ask for email, password, and display name. You may also be requested to provide additional information like phone/mobile numbers and social media profiles. Generally, this information is meant to enhance user experience on the website.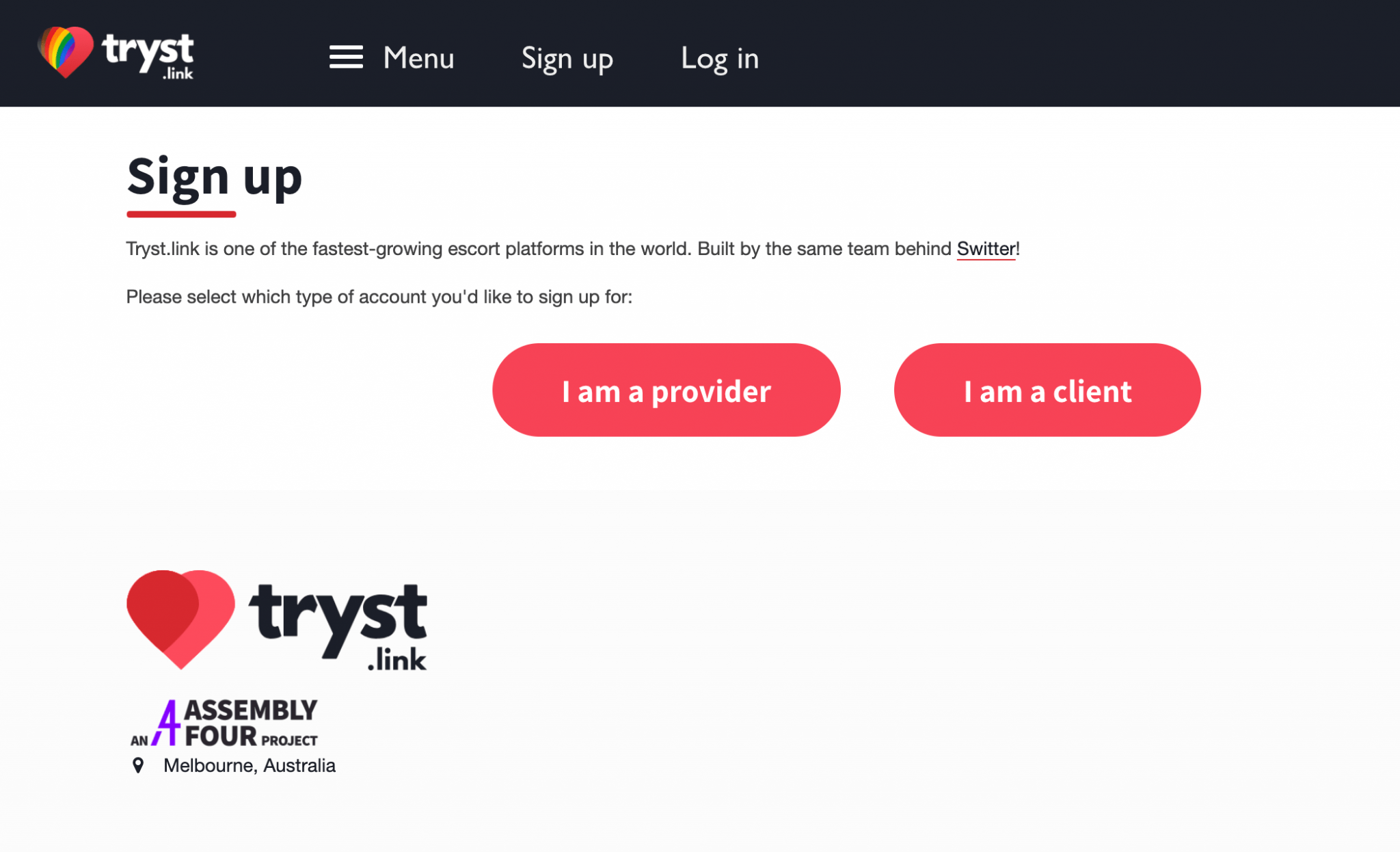 There's also an about section where you can tell others on the site about yourself. You can search according to keywords, but the website may ask for an email address if you upgrade to a premium account.
How Tryst.link works
To book an escort, you can do a live search of the results available in your area. The platform aims to include all demographics and provide fair pricing.
You can search through the sexy escorts in your area, and when you find one you like, click on the tabs to look at their pics, their rates, etc. The escort's phone number, email and other contact information will be displayed on their profile.
Text your escort of choice, and they will respond within minutes. Then, the escort girls will connect with the client (that's you!) for discreet conversations including what you're looking for, where to meet up, etc.
After the service, clients can leave a written review, but the feedback remains completely anonymous. The reviews are then posted unedited and left for other clients to see. This is a way of giving valuable insight to the community. However, the unique booking behavior will determine whether the reviews are genuine. There's no fake or suspicious feedback.
Privacy
If you post contact information when looking for Tryst.link escorts, it's not shared with other parties. However, it remains public but not to other clients. While this looks negative, it's very minor. That's not all- the site allows for anti-traffic features that help users report any suspicious accounts. The escorts are listed by reputation, not by who pays most. To protect user anonymity, there's routine data deletion. This also ensures the utmost discretion.
Tryst.link membership
The basic membership for entertainers is $49, and the premium membership is $119. All services come at affordable rates. Regardless of how low or high the escorts charge, you can be sure you'll get the best value for money.
If you are a member, you can decide on the level of service that suits you best. While each level has its benefits, you will have the best experience when you join premium membership.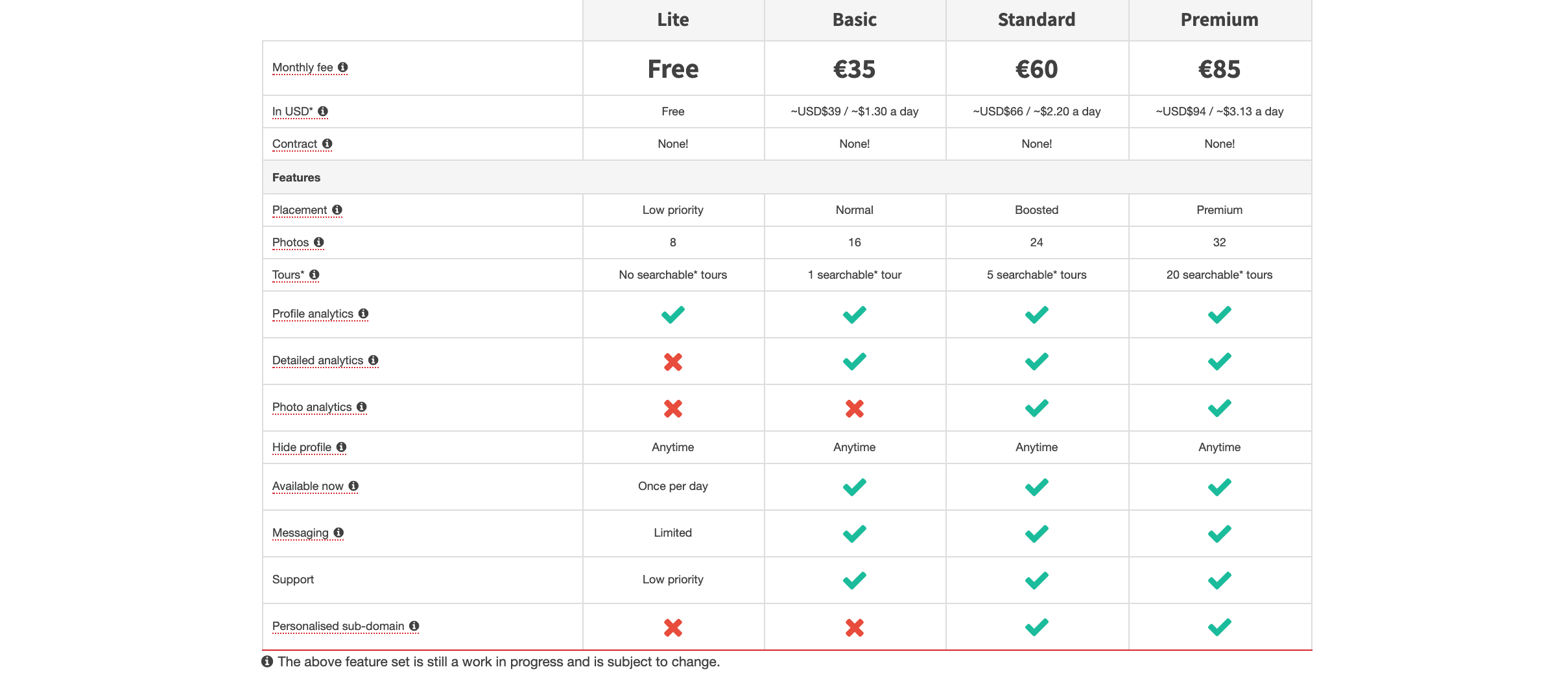 The basic membership allows for 8 photo uploads. You can have up to five partners, and you also get 14-day analytics. The only downside with the basic membership is there is no video downloads or photo verification.
If you choose standard membership, you can upload 16 photos and two live videos. Other benefits include 14-day advanced analytics, 5 upcoming tours, photo verification, and up to 55 partners. Finally, the premium membership allows for unlimited photos, videos, and tours. You even get a personal domain.
Other sample Tryst escort prices:
Additional hour-$400
60-minute date-$600
90-minute date-$800
2-hour date-$1,000
Dinner date (2 hours social and 2 hours private time)-$1,300
3-hour date-$1,400
Overnight date (14 hours with 6-hour mandatory beauty sleep)-$3,200
The pricing will also depend on the escort you choose and the time you seek for the service. Of course, special services come at an additional fee.
Regardless of your membership status, the customer service team will respond promptly to any questions and requests you might have.
Why use Tryst
Privacy is a top priority on Tryst. Unlike other escort services, clients can have discreet arrangements. Another benefit is that the escort service connects clients in the safest way possible. The information you use on the website is 100% safe, and it's not shared with third parties.
Tryst has a special membership program that helps to keep the workers afloat during hard times. Escorts can keep their ads running online until they are back on their feet.
Furthermore, Tryst ensures their clients keep tabs of any changes. You'll receive a notification of any update made on the dashboard. This mostly covers analytics, development, and support. You'll always get information on what the team is working on.
We searched online for reviews of Tryst.link, and we found quite a few positive ones. Here are just a few:
Conclusion
Tryst is not one of those sites that will waste your time. Most users give positive reviews about their experience, so it's not a fraud site. The payment methods are genuine, and the service is top-notch. Keep in mind that this site is not for you if you're looking for a relationship or a free hookup. If you're looking for hot escorts in your area for sexy fun, then this is one of the best sites for you.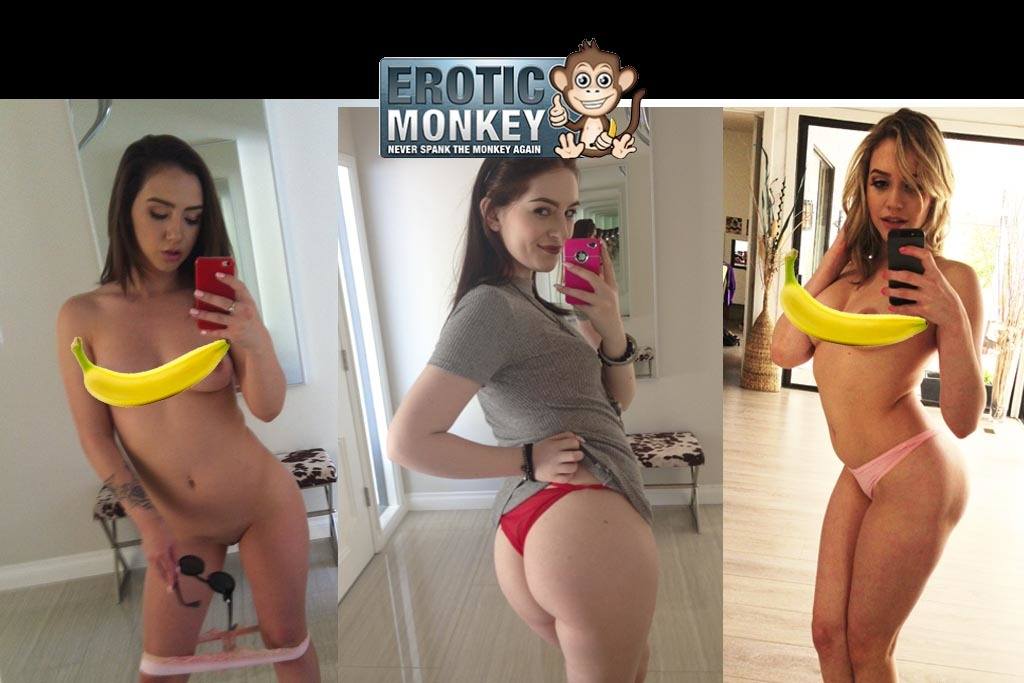 By

Tony Parker

|
November 14,2023
→  Escorts Sites Like Erotic Monkey For Sex ← When it comes to the world of adult entertainment, it can be hard to find the best escort sites out there. Lucky for you, we've got the inside scoop! In this Erotic Monkey review, we're pulling back the covers and revealing all the juicy…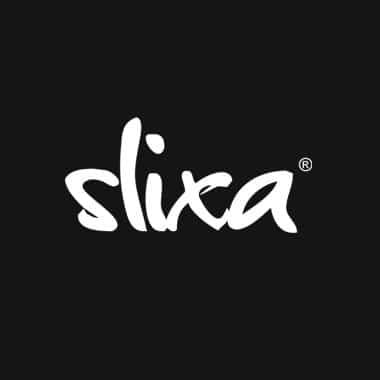 By

Tony Parker

|
November 07,2023
Slixa is a top-tier escort website that connects with companions from the UK, France, Spain, Germany, Canada, and the US. Let's take a closer look at Slixa, the escort website. Slixa User experience Slixa's website looks clean and elegant, so you can browse any escort's profile with ease. Additionally, you can use the filters…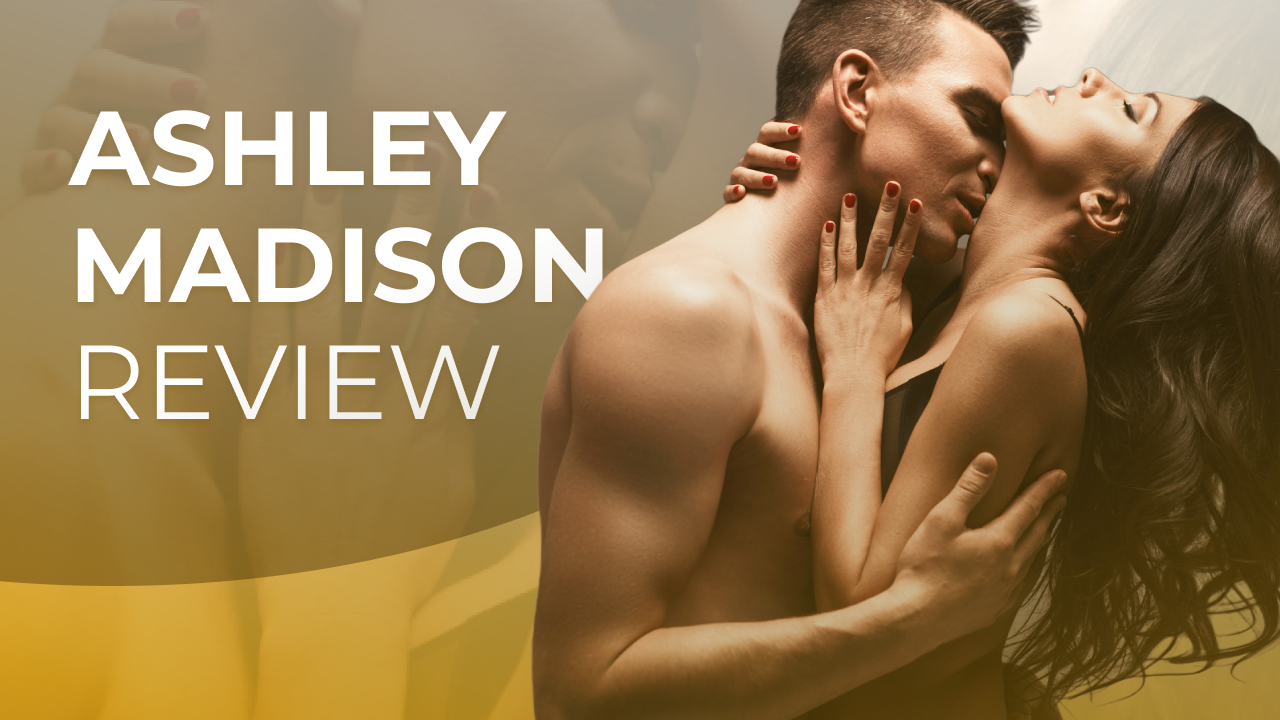 By

Kinky Hookup

|
July 11,2023
If you want to spice up your love life, the Ashley Madison dating site may be a tempting option. But is Ashley Madison legit and worth your time? We've done a thorough Ashley Madison review to help you determine if this dating site is suitable for you. Our review covers the site's features, membership options,…