What type of kinkster are you? Find your true BDSM personality archetype with data-based questions. 
What is the Kinky Hookup BDSM Kink Test?
It's a 30-question multiple-choice quiz to help you determine which BDSM role archetype you fit into. You can find out whether you're a masochist or a Mommy, a sadist or a Switch, a pet player or simply a hedonist. There are sixteen possible results and you can read the descriptions of each one below. Taking the quiz takes 15-20 minutes for most people.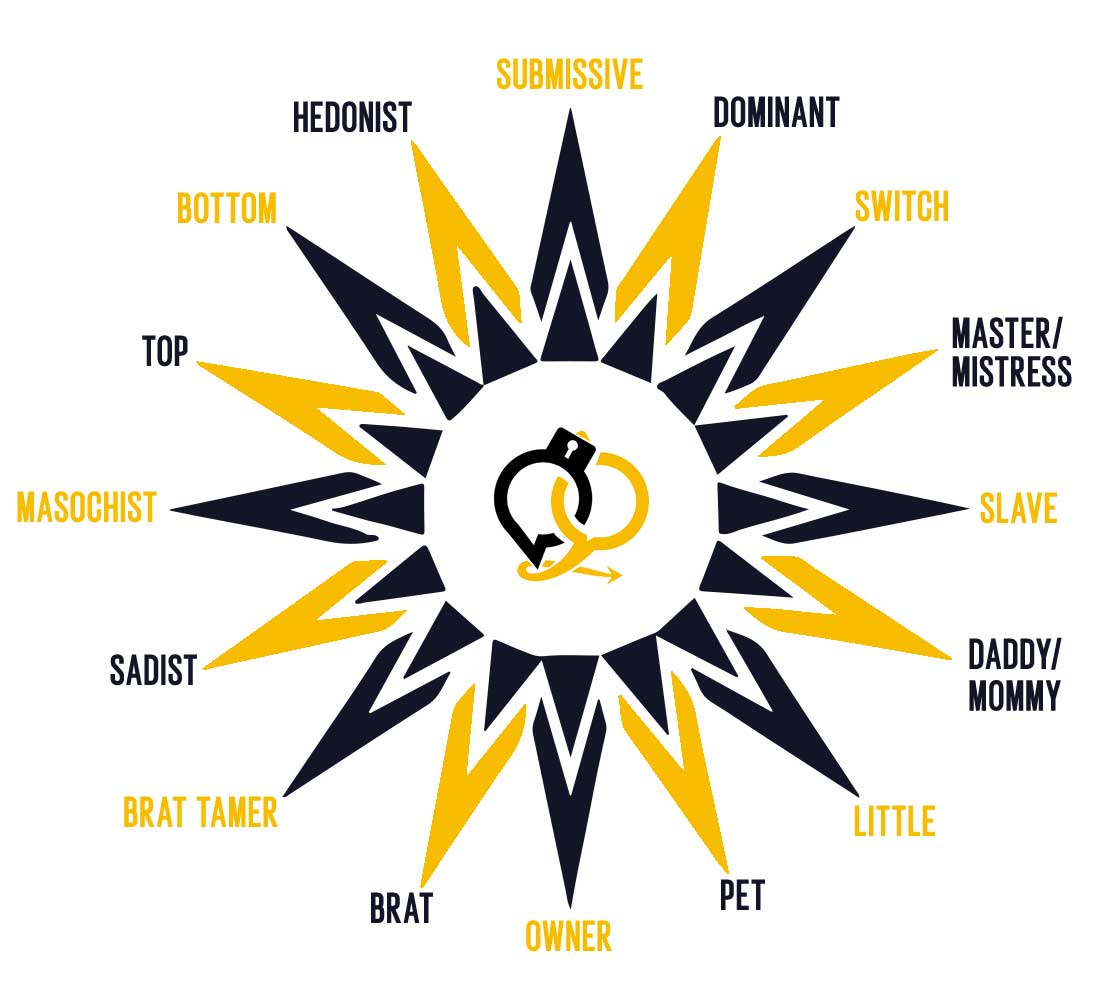 How is our quiz different?
There are so many kinky quizzes out there. However, ours was created by a BDSM expert and educator, and tested by a number of BDSM enthusiasts.  This means that it's based on extensive first-hand knowledge of the scene and the variety of people and activities within it. All the kinksters who tested the quiz said that their results aligned with how they see themselves and that the descriptions of their role accurately reflected their experience.
We ask questions based on not just the kinky activities you partake in, but your mindset and feelings around them as well. After all, two people can do the same act but experience it in a completely different way! We don't think your kinky role is defined entirely by what you do, but also by why you do it.
We understand that kink is not necessarily a binary and that while many people identify with labels like "Dominant" and "submissive," they can feel inaccurate to others. While it's impossible to cover every role out there, we have been as comprehensive as possible and we think we've covered a lot of bases with our sixteen options.
Who is it for?
Anyone who is into, interested in, or curious about BDSM can take the test! If you're brand new, it can be a good starting point to starting to get to know your kinky self. You don't have to apply a label to yourself if you don't want to, but answering the questions will give you food for thought and your result will point you in the right direction as you think about what kinky things you might like to try first.
If you're more experienced, you can still take the quiz! Maybe you've been rethinking the role you identify with, or wondering about branching out into other areas of play but aren't sure where to start. Even if you're comfortable in the role you normally take, you might just learn something new about yourself.
What if none of the answers really fit me?
We understand we can't possibly provide an answer option that will suit everyone for each question. If none of the answers feel quite right for you, choose the one that feels the closest in spirit if not in the specific details.
What are the benefits of knowing your BDSM archetype?
People are complicated and multi-faceted. Very few of us fit perfectly within a textbook description of just one role, especially in something as layered and personal as BDSM. However, whether you're new to kink or just trying to understand your kinky self better, your archetype gives you a starting point.
Much like other archetype quizzes (think Myers-Briggs and so on,) our BDSM test is not meant to be prescriptive. Using a role or label to describe yourself shouldn't limit you – ultimately, you can try whatever activities and take whatever roles you want, and your kinky identity is valid. A label is a description, not a cage (unless that's your kink!)
Your archetype can also shift and change over time. Maybe you feel like a switch now, but you'll eventually decide you feel more comfortable labeling yourself as a submissive. Perhaps you feel like you're mostly in it for the physical sensations right now, but later you'll find you really enjoy a little power play.
Keep an open mind as you take the quiz. You might get exactly the result you expected, or you might be very surprised!
We hope you enjoy the test!
The 16 role archetypes:
Submissive
You're all about giving up control. You're very giving and probably have a strong desire to please the person you serve. Your happy place is likely to be at your Dominant's feet or wearing their collar. Your submission might just be for the bedroom, or it might run deeper. You are also likely to be the one on the receiving end of kinky activities such as spanking, flogging, rope bondage, and sensation play.
Dominant
You want to be in charge! As a Dominant, you enjoy giving the orders in your relationship and having your partner obey you. A natural leader, you want to use your power to do what's best for your submissive. You might be dominant just in the bedroom, or in your relationship more generally. You are probably on the giving end of activities like impact play, sensation play, and rope bondage.
Switch
You can be just as happy in the Dominant or submissive role. The role you take may depend on the day of the week, the partner you're with, or simply on your whims at the time. Some switches will take one role within a relationship depending on their partner's orientation. Others will partner with other switches and swap roles, either frequently or occasionally. As long as you're having fun, it's all good!
Master/Mistress
As a Master/Mistress, you want to be the one in control in your relationship. It's likely that your power dynamic crosses over into other areas of your life. You might have strict rules or protocols for your submissive or slave to follow. Your word is law in your household and what you say goes. Though your kink may have a sexual element, it's likely that the sense of control and being in charge is at the core of what makes you happy.
Slave
As a slave, you want to be owned and you live to please your Master or Mistress. Your kink – and your relationship with your Master or Mistress – may or may not have a sexual element. Either way, it's likely that giving up control and being completely under another's thumb is the most important thing to you. Their wishes are your wishes. Just remember not to lose yourself in your dynamic – you're still an individual.
Daddy/Mommy
Nurturing is the name of the game for you! Your style of dominance is likely to center around caring for your submissive, looking after them and building them up. You likely take on the role of the wiser, more experienced authority figure. But that doesn't mean you can't be strict when you need to be, and you're only too happy to issue a spanking if your little one steps out of line.
Little
You're an adult who hasn't lost touch with their inner child. Littles are playful and sweet, but also enjoy being nurtured and taken care of. You might have a mischievous streak, and need a strict Daddy or Mommy Dom to keep you in line with a stern word or a spanking. You might enjoy things like stuffies, Disney movies, and coloring books.
Pet
You're in touch with your wild side! You might identify closely with a particular animal archetype – perhaps you're a sweet kitten, a playful puppy, or a pampered pony. Equally, you might not identify with a specific species but generally be in touch with the animalistic side of your sexuality. You might enjoy being petted or scritched. Petplayers are not the same as furries (though there is a crossover) – you may or may not enjoy wearing pet gear such as ears, a tail, or pony tack.
Owner
Your pet is your pride and joy. Whether you are the owner of a human puppy, kitten, pony, or some other pet entirely, you take great pleasure in training, playing with, and making a fuss of them. Of course, you're also there to provide discipline if they step out of line… and a scritch behind the ears when they do as they're told!
Brat
You like to give your Dominant a challenge. Brats fall under the submissive umbrella, but unlike subs they don't go down without a fight. You're deliberately naughty, and perhaps cheek your Dominant just to get a reaction. You're not going to do as you're told… unless they make you!
Brat Tamer
If anyone can make the brat do as they're told, you can! You're a dominant type who enjoys a challenge. After all, it's no fun if they do what you say the first time, is it!? Whether you have to beat them into submission or tie them up until they behave, the brat may have finally met their match with you.
Sadist
You want to give out pain. Chances are that spanking, whipping, flogging or otherwise inflicting pain on your poor helpless submissive are all part of your jam. Your sadism may or may not be tied to Dominance or a power exchange relationship. You probably get off on your partner's reactions when you do things that (consensually) cause them pain. Make sure you do your research and know what you're doing, though – you want to hurt, not harm.
Masochist
Pain gets you off. You want lovely people to do terrible things to you. You may or may not also be a submissive or be interested in power exchange relationships, but intense sensation and pain is a core part of your sexuality. Interest in masochism can range from wanting to be lightly spanked all the way up to very extreme kinks, and it's all valid. Just play safe! A trip to the Emergency Room ruins everyone's fun.
Top
You want to dish out sensations or be on the giving end of kinky activities, but you probably don't have much interest in a power exchange relationship. You want to hit your partner, tie them up, or inflict sensations upon them because they enjoy it. You don't want to control your partner or be in charge outside of the bedroom, but it sure is fun seeing how they react when you do this...
Bottom
You enjoy receiving elements of BDSM play, such as impact play, rope, or sensation play, but you have little or no interest in being in a submissive role. You want your partner to do kinky things to you because they feel good, but you won't be giving up control to anyone any time soon.
Hedonist
You're all about pleasure, pleasure, pleasure… and lots of it! You don't concern yourself with whether you're a Top, bottom, Dom, sub, or Switch. You just chase what feels good. After all, why put yourself into a limiting box when there's a world of fun experiences to be had and interesting sensations to explore? Bring it on.