Is WhatsYourPrice Worth the Hype? A Comprehensive Review
WhatsYourPrice is a high-end dating website that involves no monthly fees. It's a unique site that is designed for affluent people to date other members who are willing to accept their bids.
As an actual user of WhatsYourPrice, I can say that it's a successful way to go out with attractive women. Below is my detailed review of WhatsYourPrice, highlighting the features of this innovative adult dating site.
WhatsYourPrice First Look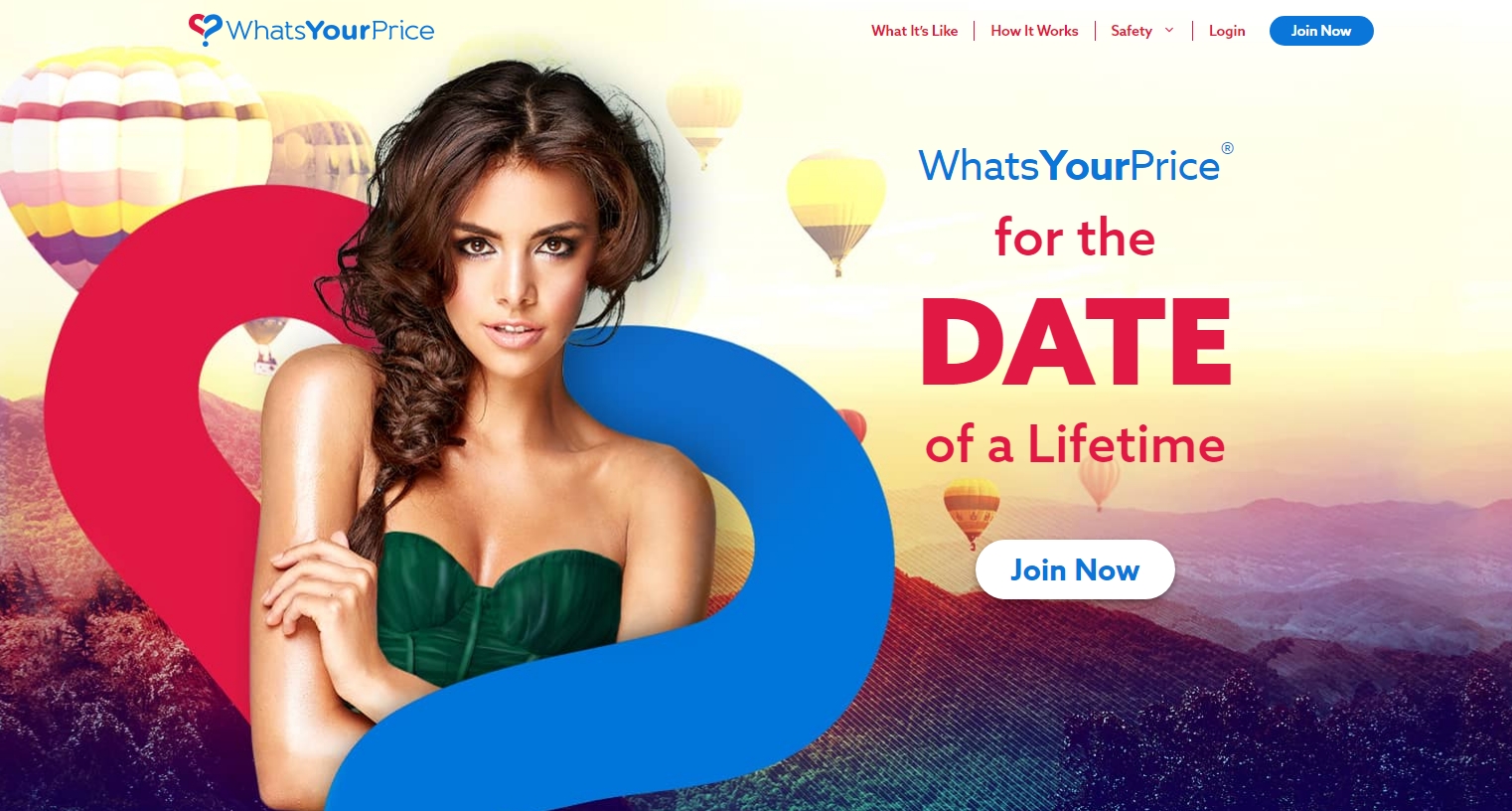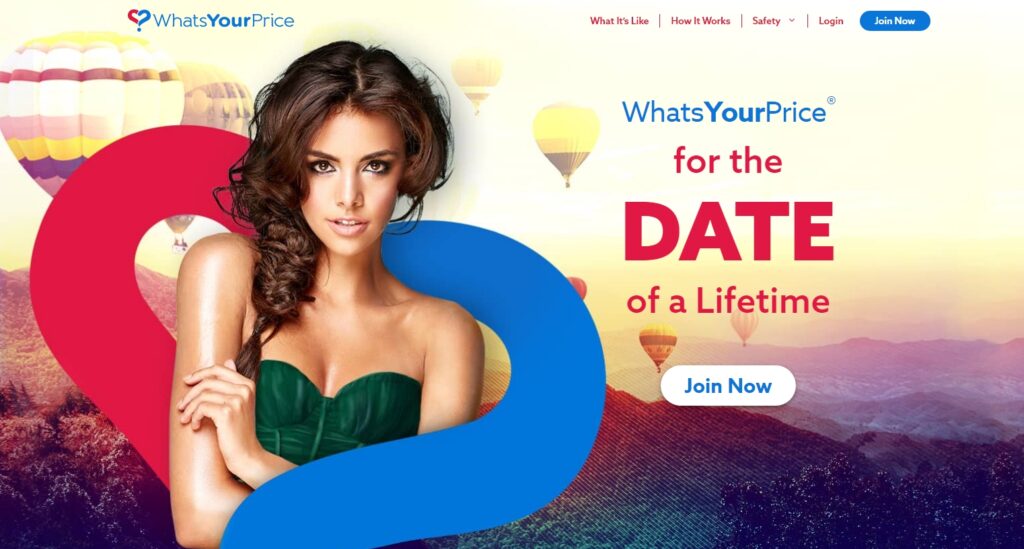 In a nutshell, WhatsYourPrice totally changes the entire dating game. Created in 2010, this ingenious site is based on the premise of incentives. It turns dating into a game of placing bids – no prior conversation needed!
Launched by Brandon Wade, founder of other popular dating sites, WhatsYourPrice is a unique dating site that's perfect for those who've got the money for membership credits. While you can sign up for free, the purpose of the site is to bid on other members, win your bid, and take out your date. All expenses paid, of course.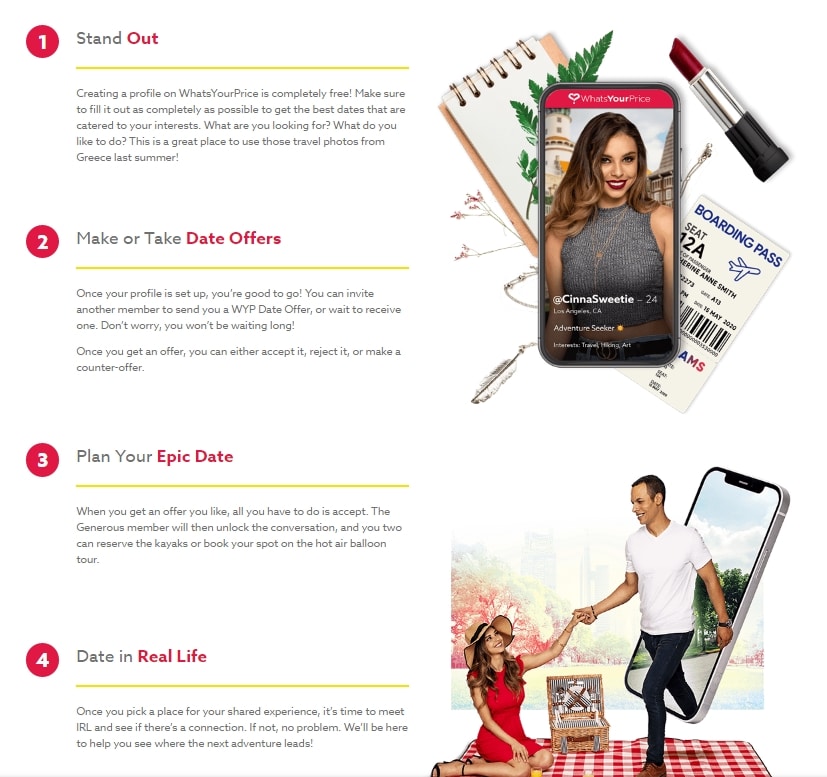 According to the website, it takes just 3 days on average to find a date through this platform. Is it really that easy? Well, I've got an answer to the question and more. This exclusive review will give you an in-depth look at WhatsYourPrice, so you can decide for yourself if you want to try it out.
Pros:
 It's free and easy to register

The site is full of sexy, attractive singles

 It's an incredibly innovative concept

You have a better chance of getting a date

There's no subscription fee

 You only pay when a deal is made
Cons:
There's no mobile app for WhatsYourPrice

It can be expensive to bid and date
Main Features & Highlights
The site is free – no subscription needed.

You only pay when a deal is made with a match

 Signing up only takes an average of 30 seconds
There are a ton of members – more than 3 million! – on WhatsYourPrice, so the probability that you're going to find an attractive date is pretty high. The premise of the site is that finding a date is really all about math and economics. Sounds clever, right?
There's two groups of members on the site, and they are categorized as Attractive and Generous. The Generous members have got the money, and the Attractive members have the honey, so to speak. Generous members place bids, while Attractive ones are really the bread and butter of the site – they are the ones who decide if your bid is good enough for them to go out with you.
WhatsYourPrice is comprised of about 40% female users, and around 35% of those female users are college students. There are members from all different countries, but mostly they're from the USA, the UK, and Canada.
Sites like WhatsYourPrice Include
Signing Up at WhatsYourPrice
One of the best aspects of WhatsYourPrice is that signup is free and easy. In fact, I can say that it's one of the quickest signups I've ever experienced during an adult dating site review.
Whether you want to bid on dates or be paid to be a date, you need to sign up on the site. No big deal – you only need to supply a few pieces of basic info. WhatsYourPrice wants to know why you're signing up (to either bid or get paid for dates) as well as your gender. All info you provide can be edited later.
Then, simply confirm your email, and voila, you're done signing up! In all honesty, you don't even have to complete your email confirmation to start browsing for a hot date. The banner will show up on top to remind you, but you can begin browsing with some limits, no worries.
While you can browse after signing up, you can't actually start making bids yet – trust me, I learned this the hard way. After seeing a few hot babes I'd like to take out, I was all ready to make my bid. However, you need to be more specific about yourself, as described in the next segment.
Before You Can Start Making Bids on WhatsYourPrice
So, after you sign up for WhatsYourPrice, you need to do just a few more things before you can begin bidding on a date. (I know, it may seem tedious. But like I said, it's easy to sign up. It takes just a little more effort to actually get into the nitty-gritty. And it's worth it, trust me. So quit whining and do what you need to do to a gorgeous woman to go out with you!)
After verifying your email address, you have to complete your profile with a pic. Yes, you'll need to upload a photo and wait for it to get approved. But don't worry – the approval process usually takes less than a day to complete.
Your photo is necessary in order to minimize the amount of fake accounts and fraud. Fine by me! I'd rather wait another 24 hours to begin searching for my dream girl than have to deal with fraud accounts.
After verifying your profile, completing profile details, and adding a profile photo, your messaging feature will be unlocked. However, you can exchange messages only with accepted or unlocked offers or bids.  
What are WhatsYourPrice Users Like?
One of the biggest questions you probably have about WhatsYourPrice is, what are the users like? As I mentioned before, the site has Generous members and Attractive members. While these "labels" seem to confuse people and aren't used as much, these two groups are still dominated by the respective genders they started out with.
The men are usually the Generous ones, while the Attractive ones are usually female. That's just how it is, so don't shoot the messenger here! Let's face it – men are generally the ones who do the paying, so this site isn't any different.
The site is chock full of attractive females, very similar to Ashley Madison. You won't find any ugly women on these sites, that's for sure. 
Many of the female members are college students from the US, presumably looking to pay their tuition or bills. Nothing wrong with that, right? You can narrow down your search to find an attractive woman closer to your area.
Since all members need to have an approved photo, you can be sure that the picture you're looking at is the real person on here. After all, the Attractive ones want to make money, without false advertising.
So, are there a lot of users in your area? Well, I did a general search of my city, which is pretty large. Within 100 miles of me, there were more than 4,000 results. That's not bad! Even if most of them aren't your cup of tea, that's still a lot of potential dates.
See, like I said before: it's about math and economics. If you've got the money to spend, chances are good you'll find a sexy date. Plus, there are more and more people signing up for WhatsYourPrice every single day.
Is WhatsYourPrice Legit?
You may be wondering, is this adult date site actually legit? The bidding aspect of the site may rub some the wrong way. It may sound like an escort service, for sure. But it's not. And it's perfectly legal, before you even ask. According to their site, escorts are absolutely prohibited. You can read more in their terms and conditions.
WhatsYourPrice is very similar to sugar daddy sites like Seeking.com. These sites are based on the same premise that women can date real men and be pampered by them, with no strings attached.
The WhatsYourPrice team does a good job of weeding out any possible frauds with their verification process. While some may slip through the cracks, the team does their best. That being said, it's up to you to be discerning. As a Generous member, you pretty much bid on who you want. If you think a potential date is not who they say they are, especially in the looks department, use your instinct. Don't bid on them!
With a minimum amount of 5$, you can have the chance to get a date as a bidder. A receiver of the bid can earn much money without any limitations. Counterbidding is allowed, and this allows members to play with the price range and interact and show how interested they are to the other member.
So, to recap, WhatsYourPrice is legit; however, there are always fakes and frauds on any dating site. It's up to you to create your experience.
My WhatsYourPrice Dates
First Date
Speaking of creating experiences, I'd like to share my two dates from the site. For the first date, the bid was $100. The second cost me $500.
For the $100 date, I got to take out Mandi. She was a college student, 22, and very wild. We were meeting at a casino in town. She asked me what she should wear, which I thought was weird. I wasn't sure if she genuinely didn't know what to wear to a casino, or if she wanted me to choose her outfit for her. I told her to wear what she'd wear to a club or something.
We met and I was instantly attracted to her. She wore a ton of makeup and swore like a sailor, but that never stopped me from taking out a lady before! Was she attractive? Yes, for sure. Was she my "type"? Not sure, but Mandi only cost me a hundred bucks.
The thing I liked about Mandi was that she was pretty open about herself. She seemed genuine, even though she was dropping F-bombs like crazy. We had a few drinks, played a few hands of poker, and then I dropped her off at her apartment. Obviously I didn't sleep with her. Could I in the future? Possibly. Was Mandi girlfriend material? Nope, not at all. And that's okay.
Mandi and I exchanged numbers and agreed to keep in touch. She was a nice girl and very attractive, but a bit immature for my taste. Was this experience worth $100? Absolutely. 
Second Date
For my second date, I bid $500 to go out with Angelia. It turned out that she actually lived not too far from me and accepted my offer very quickly. I was wondering if she had some ulterior motive for accepting my date offer so fast, but I suspect it may have been the amount. Either way, when I saw Angelia's photo for the first time, I was floored by her beauty. So, taking her out for a night on the town was absolutely my pleasure.
Anyway, we agreed to meet a swanky restaurant about 5 miles from me. Angelia was a classic beauty with long dark hair and a smokin' figure, which clung to her sexy black dress. She met me at the bar for a pre-dinner drink, and my first thought was, Angelia was worth every penny. She also had an accent, which I loved.
We each had a few martinis before a delicious steak dinner. Angelia was a great dinner date – she was polite, charming, and conversational. We shared a chocolate lava cake dessert and a bottle of wine.
Afterward dinner, we went to a cool nightclub for some dancing. Angelia showed off her sexy dance moves and I was in heaven. Here was this gorgeous woman, dancing with me. Sure, I paid her for her time, but who cares? She also smelled like a mix between lavender and lemon, which was a little odd, but also comforting.
Compared to my first date, this second date was a real winner. Angelia gave me a nice peck on the cheek before getting into her Uber to go home. We exchanged contact info, and I'm not sure if she'll ever call again. But I'd be honored to spend $500 to be seen with that sexy, gorgeous woman again.
WhatsYourPrice Pricing
The pricing system is pretty ingenious and unique. They don't charge you a monthly fee, and they don't charge you transaction fees either. Instead, you buy credits to talk and bid on the attractive women you're trying to date. If you're asking, why do I need to buy credits, consider this – the site has to make money somehow!
No money is ever actually exchanged on the site between you and dates, which is why they don't charge any transaction fees. The credits cost anywhere from $.25 per credit to $.50 per credit depending on how many you buy. The only other expense on WhatsYourPrice is actually paying for your date.
You might be thinking, isn't this an expensive way to date, particularly if you're looking for a very attractive date? Well, sure it could. But then again, so could a "regular" date, and there's still no promise of them sleeping with you or seeing you again. So, if you can spend a few hundred for a guaranteed lovely evening with a gorgeous date, why the hell not? At least, that's how I feel about it, anyway. 
Is WhatsYourPrice Worth It?
Taking into consideration my two date examples, I'd have to say that WhatsYourPrice is definitely worth it. If you normally get a lot of attractive dates in "real" life, you probably wouldn't be on this site, let's put it that way. However, if you're an average joe like me and simply love to have a sexy, beautiful lady by your side for a date, WhatsYourPrice is worth the investment.
Now, if you're looking for a serious relationship or wife material, this site is probably not the place. That being said, anything is possible, right?
All in all, the site is what you make of it. If you're just looking to have some fun for one night with someone who probably normally wouldn't go out with you, it's great. But remember, it's all about the money, so make sure you've got some stacks to spend on your big date. 
The Final Verdict
WhatsYourPrice has a good thing going on, believe me. And quite frankly, the women on this site do as well. After all, they have full access to the features, and get to make the decisions about the dates. The men pay for everything, basically. Just like real life!
Seriously though, whether or not people think WhatsYourPrice is a controversial site, it actually worked for me. I'm not looking for my bride at this point in my life. I just want a pretty date sometimes. And as for the women, they're just looking to pay their bills or tuition. So, what's the harm in making everyone happy?
If you've got the funds, you're single, and want to have a nice date, I say go for it. Everyone will see you walk in the door with your sexy date on your arm, and they'll be jealous. And that's really what is worth the few hundred bucks or so, am I right?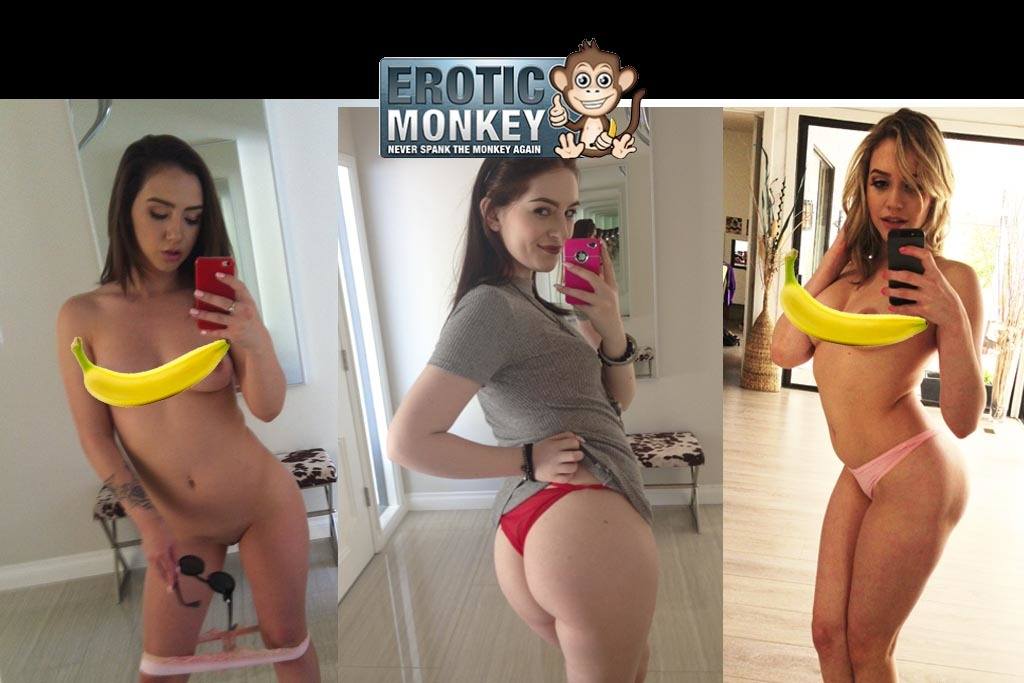 By

Tony Parker

|
November 14,2023
→  Escorts Sites Like Erotic Monkey For Sex ← When it comes to the world of adult entertainment, it can be hard to find the best escort sites out there. Lucky for you, we've got the inside scoop! In this Erotic Monkey review, we're pulling back the covers and revealing all the juicy…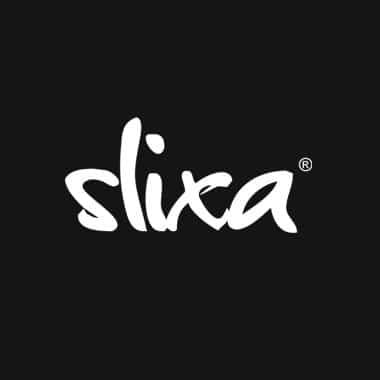 By

Tony Parker

|
November 07,2023
Slixa is a top-tier escort website that connects with companions from the UK, France, Spain, Germany, Canada, and the US. Let's take a closer look at Slixa, the escort website. Slixa User experience Slixa's website looks clean and elegant, so you can browse any escort's profile with ease. Additionally, you can use the filters…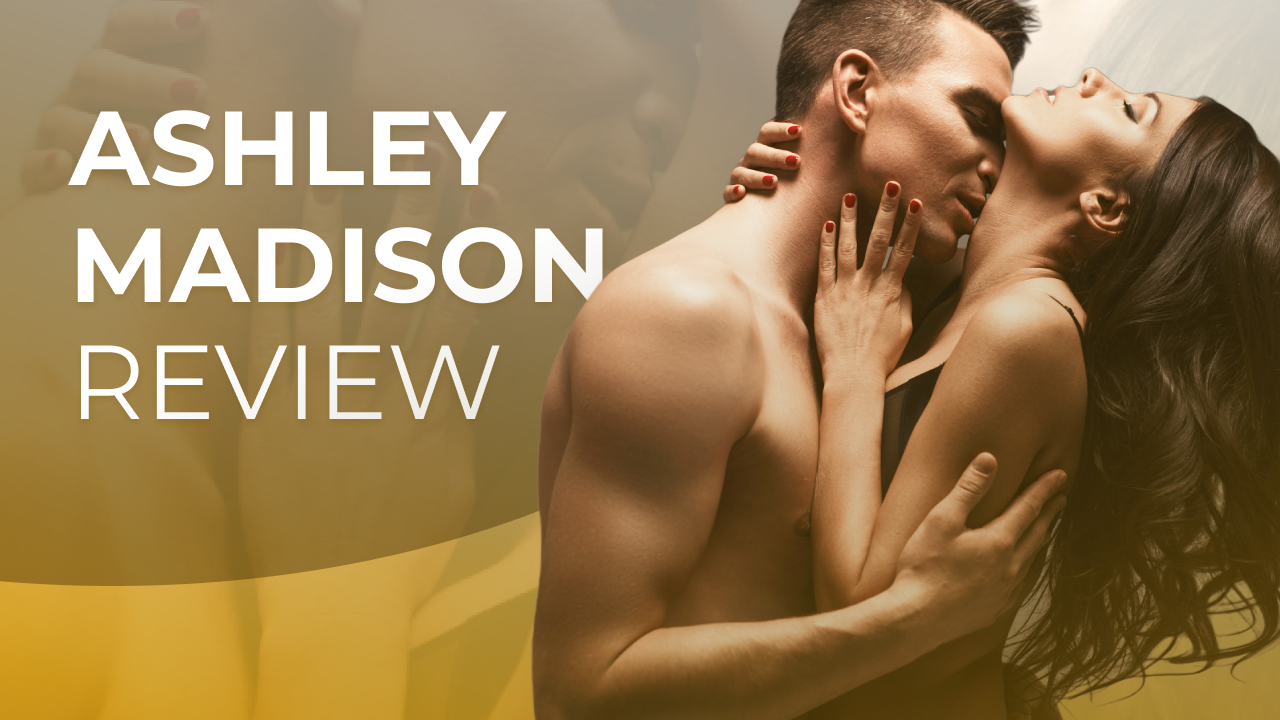 By

Kinky Hookup

|
July 11,2023
If you want to spice up your love life, the Ashley Madison dating site may be a tempting option. But is Ashley Madison legit and worth your time? We've done a thorough Ashley Madison review to help you determine if this dating site is suitable for you. Our review covers the site's features, membership options,…