Is KinkyAds Legit? Read This Post
Kinky Ads claims to be a free casual encounter network for the kink community. With 141,996 registered members the community is sizable but not super large. We all know that when Craigslist Personals went down tons of people were left out in the cold. Where were you supposed to find no-strings hookups with strangers now? Kink Ads seems to be trying to fill this void in the community.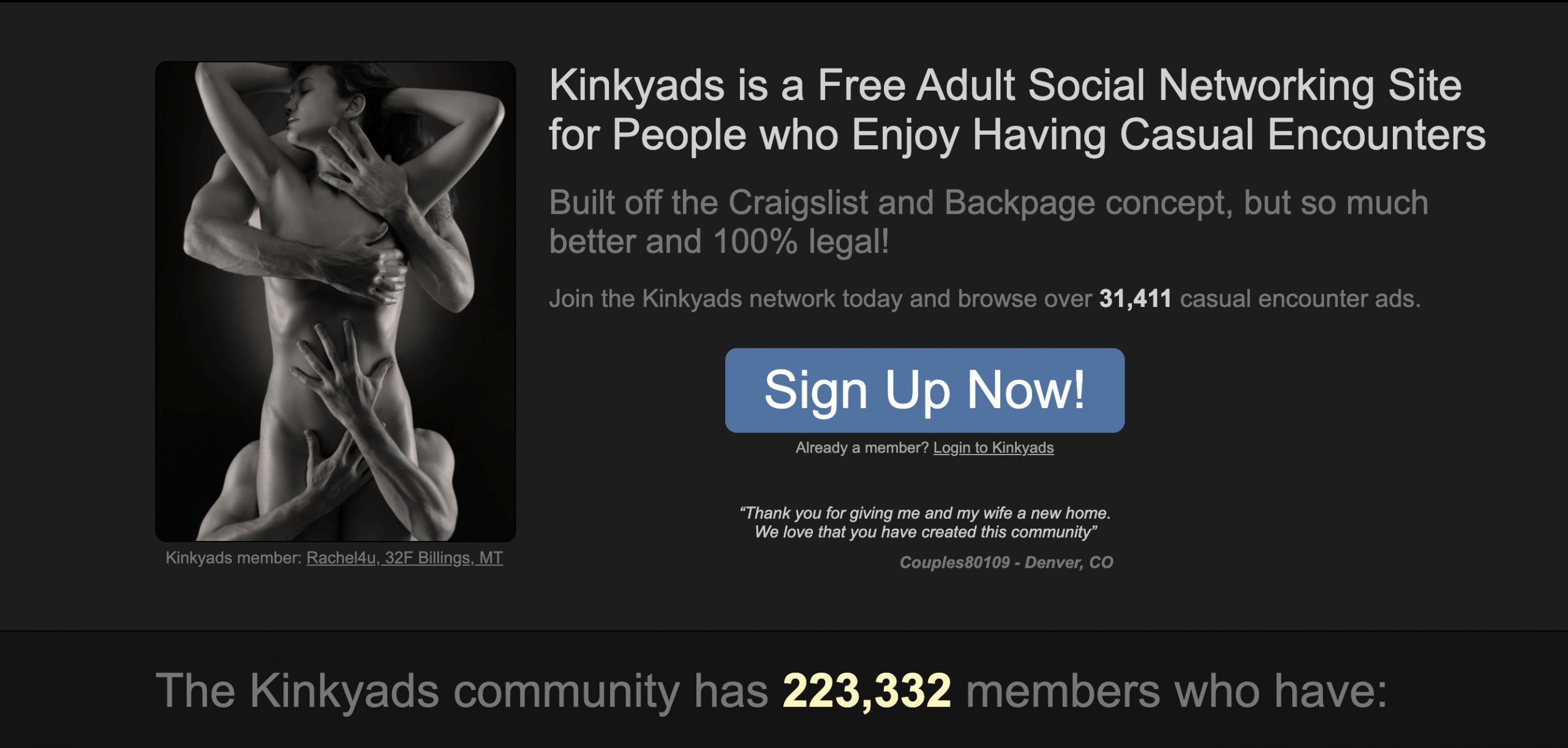 This site is basically just the best parts of the Craigslist Personals, think if it as a Craiglist alternative. You can narrow by your location and see posts and offers from people around you. The community is pretty sexually open so regardless of sexual preference or kink you can find something for you. If you're new to an area and want to hook up quickly this site could help make that happen.
If for some reason you've been living under a rock for the last 6 years Craiglist Personals was the most popping place to find casual hookups and sex. What made it so great? Anyone could anonymously post what they were looking for. Men wanting to cheat on their wives or women looking for a sexy house call. Anything went when it came to Craigslist Personals. If you never got to experience this magic we feel sorry for you. But don't worry if you missed the boat. There are tons of sites like Kinky Ads that were ready to pick up the reigns. 
Signing up
Kinky Ads is free to use so you won't need to pay to set up an account. Signing up is super easy. Just use an email address and set up your username and password. You won't need to include a profile picture so your privacy is protected.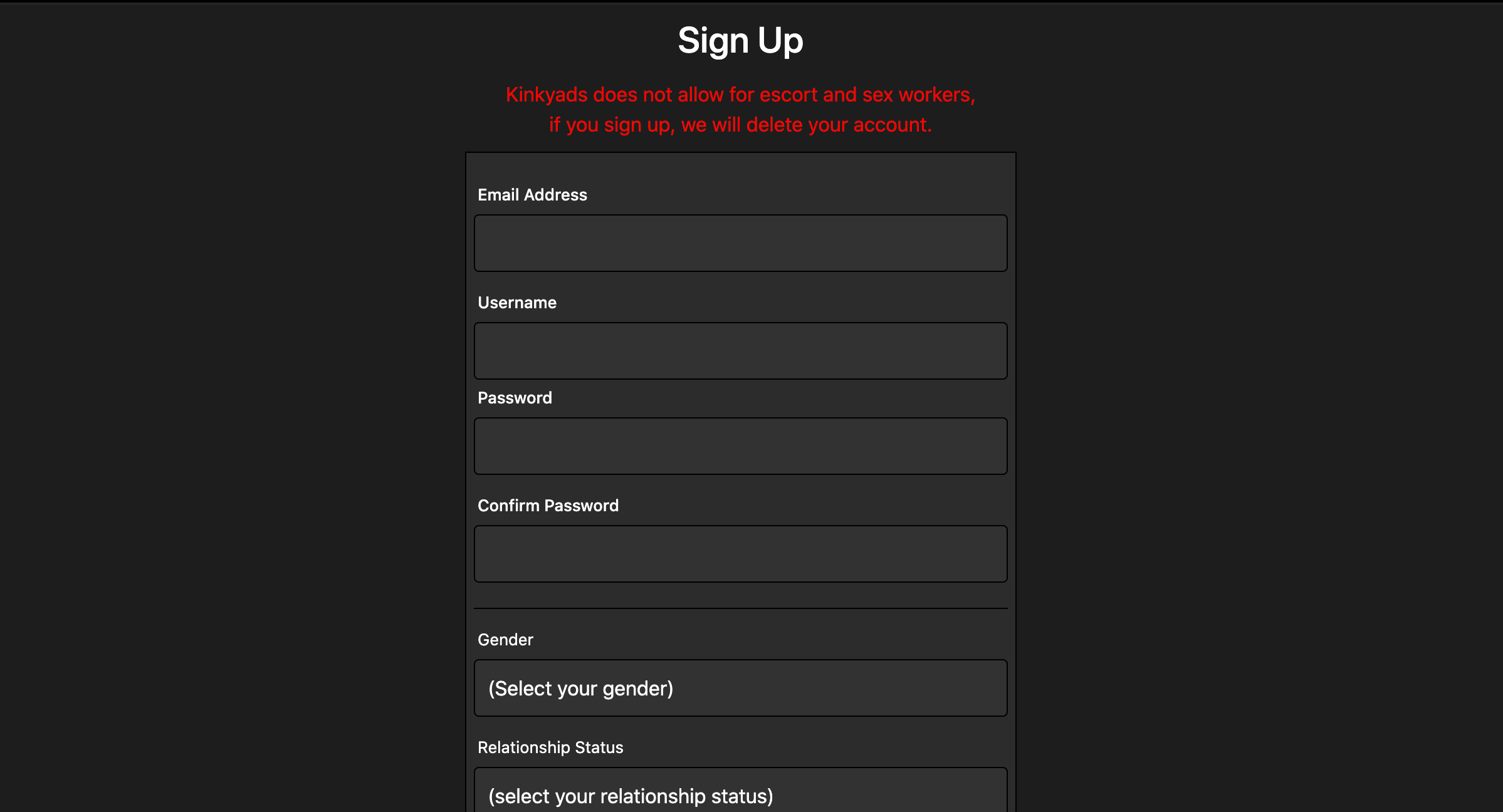 Once you sign up your profile is pretty bare-bones and unfortunately, the site doesn't allow you to change this. If you're trying to figure out more about people from their profiles you won't get too far. For example, you won't get any information on their body type, ethnicity, hair color, etc. Most listings will include this information or you can ask but you won't find it simply viewing profiles. 
What to expect
When you visit the site you will notice that you really don't have access to much without signing up for an account. Accounts are free and quick and easy to set up so that's not that big of a deal. It's kind of refreshing to have to set up an account to use this site so not just any looky lo can be apart of the community.  
After setting up your super simple account you can be on your way to reading listings and making a listing of your own. The site design is super simple with not much more than the kinky ad postings. Hey if it worked for Craigslist all those years why would they change it? Once you get past the bland site design you can get to all good stuff. After all, it is kind of nice to not be bombarded with porn ads all over the place. 
Location features are an awesome part of using Kinky Ads. The whole point of using the site is to find casual hookups around you so what's the point if they're not located anywhere near you? Kinky ads have listings both domestically and internationally so feel free to use the site when you are on the go. Turns out there are freaks all over the world that want to get down. We only tested the domestic version of this site so we're not sure how well it works abroad. 
Like mentioned earlier the site has a large number of users but not a super large amount. If you are looking at your city and not seeing that many options try to expand your location to the next largest city. For example, try Los Angeles instead of Long Beach if you're not finding all the options you want.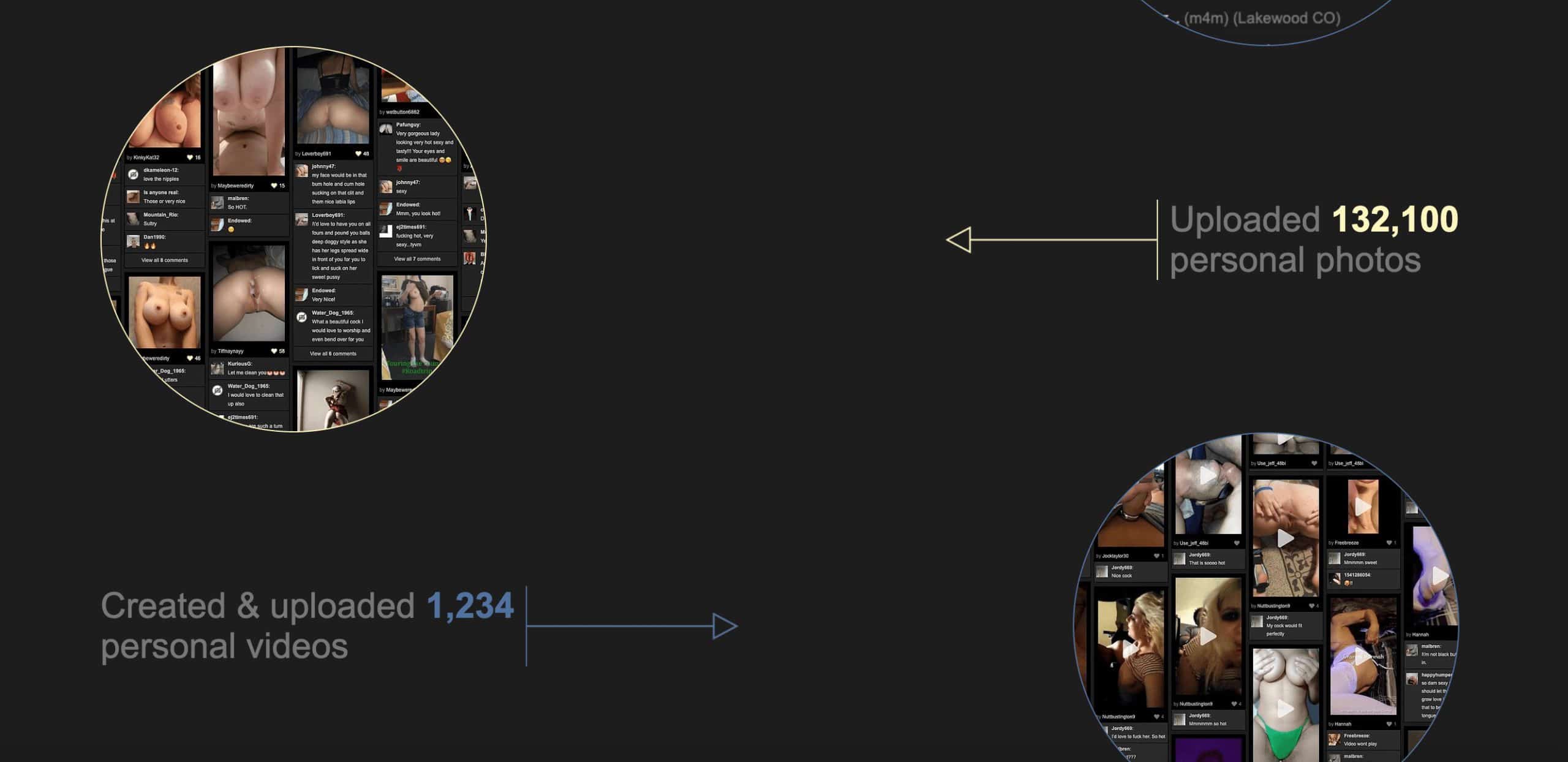 What to expect from the posts
I don't know about you but I am always wary that chicks using personals sites are just out looking for cash. While that might be for some of them on Kinky Ads that isn't the case for everyone. Now there is nothing wrong with charging or paying for sex. We wish this was more widely accepted like it is in the rest of the world. 
Guy's let's face it having to pay for sex while exciting can also take away some of the magic. Sometimes you want to fuck just because someone is super horny and wants to fuck you too. On Kinky Ads I did come across some scenarios where this was the case. I was kind of surprised. I saw a few posting where women were posting "Lonely, newly divorced, etc" and I even saw a few where they stated no need to pay. 
Women out there really are lonely and not getting fucked so why not make an account and help them out. I'm sure you can figure out a way to help ladies in this predicament. 
Some women might be trying to get paid using the site so make sure you clear that up with them before meeting up to avoid an awkward conversation at the end of the night. If you are doing any paying agree to an amount well in advance of meeting up. Always use protection of your body and identity when engaging in acts that may be illegal in some states. 
Things to be wary of
Even though registering is required to use the site the registration process does not require you to be verified. By not having verified profiles pretty much anyone could be catfishing you. Whenever you're dealing with people online you should always do your best to verify who they are. Try Googling them or Facetiming them before you get together. 
Another thing to be conscious of is that this site like pretty much any sex site is male dominant. You're gonna see a ton of listings for men looking for sex. However, don't let this warning discourage you. There are tons of listings from women looking for all kinds of things. 
The good
Kinky Ads is free to use so you don't need to worry about paying the site to use it. 

There are tons of real listings from people wanting to hookup. Of course, be wary not everyone will be real but a large majority of people seemed to be. 

The site is clean with not too many ads or pop-ups cluttering the page. I'm used to being bombarded with ads the moment you get on any of these sites so not getting that is super refreshing. 
The bad
You can't see anything without registering for an account. This kinda sketched us out but once through it made sense why.

There are not listings in every location. This isn't that big of a deal because you can just search the next largest location near you for more options. 

There are no verification processes so be careful. Just because they make you register to use the site doesn't mean that everyone is verified. 

There is not an app of Kinky Ads but the site works fairly well on mobile.
Cost
Kinky Ads are free to use! Just like Craigslist Personals before Kinky Ads lets you find exactly what you want for free. Simply sign up for an account and start scrolling away. Meeting up with a chick might not be free, however, as you probably know these sites tend to be a place where escorts mingle so be prepared for that dynamic as well. 
Final thoughts
As a place to find local women for a quick and casual encounter Kinky Ads seems to be a pretty solid option. Kinky Ads doesn't quite have the fame and notoriety CraigsList had so there are definitely fewer options. At the end of the day, Kinky Ads is free to use so you don't have much to lose in way of signing up and giving it a go. 
We love a lot about Kinky Ads. For one it is free so thats always a plus. For two despite it's dated site experience they don't have ads or pop-ups around every corner which on some of these sites can be like dodging a minefield. From what we can tell most of the chicks and their offers are legit but always use caution when meeting up with someone online. 
There are a few things to be concerned about. This site does have no verification process so anyone could be chatting with you. Kinky Ads also does not encrypt your messages the way CraigsList used to so make sure you're setting up a separate account for just this purpose. Even though the site is your basic classified style it gets the job done without any flashy bells and whistles. Overall we think it is worth a go!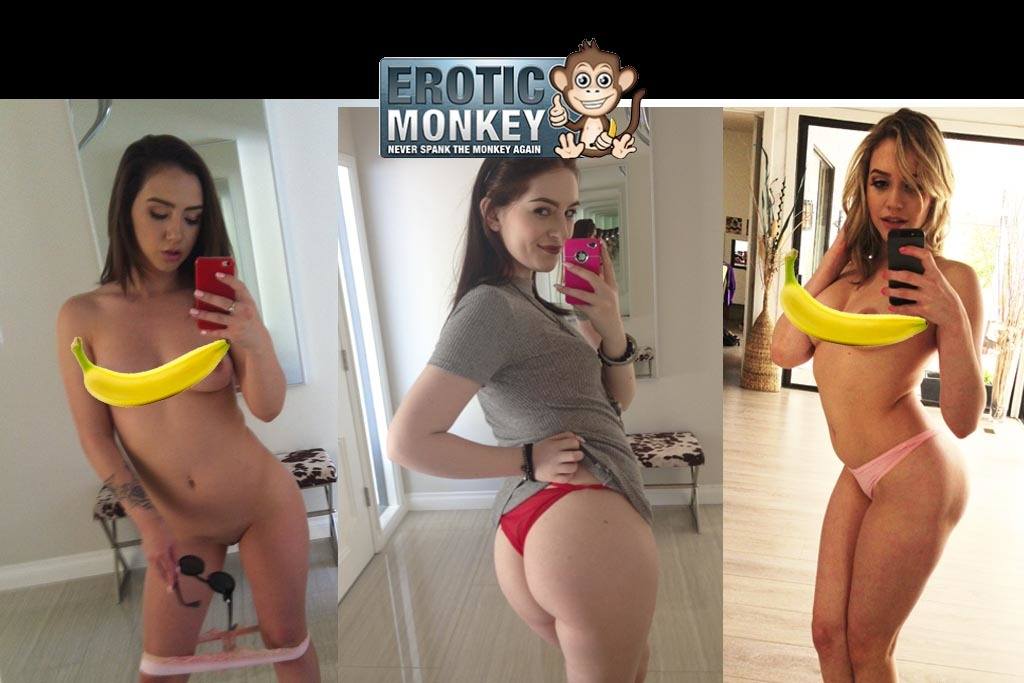 By

Tony Parker

|
November 14,2023
→  Escorts Sites Like Erotic Monkey For Sex ← When it comes to the world of adult entertainment, it can be hard to find the best escort sites out there. Lucky for you, we've got the inside scoop! In this Erotic Monkey review, we're pulling back the covers and revealing all the juicy…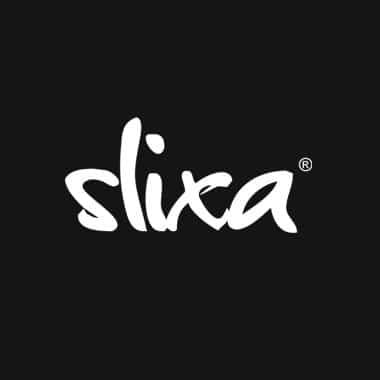 By

Tony Parker

|
November 07,2023
Slixa is a top-tier escort website that connects with companions from the UK, France, Spain, Germany, Canada, and the US. Let's take a closer look at Slixa, the escort website. Slixa User experience Slixa's website looks clean and elegant, so you can browse any escort's profile with ease. Additionally, you can use the filters…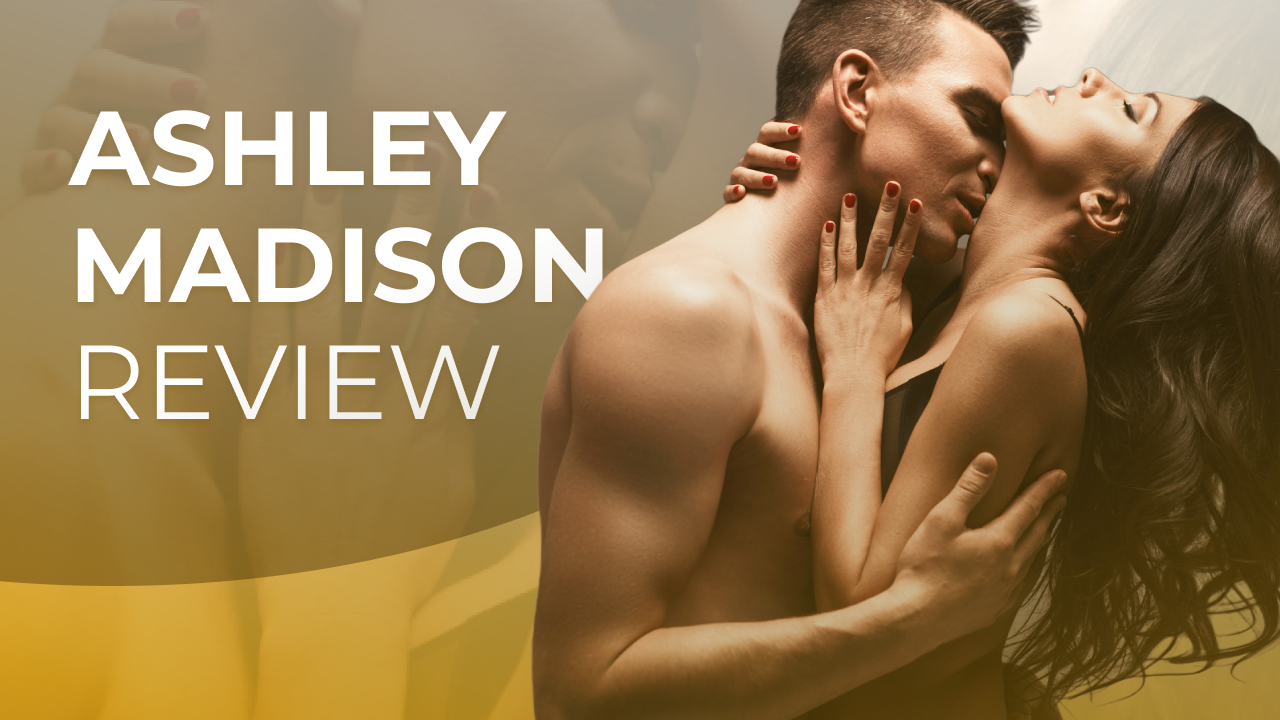 By

Kinky Hookup

|
July 11,2023
If you want to spice up your love life, the Ashley Madison dating site may be a tempting option. But is Ashley Madison legit and worth your time? We've done a thorough Ashley Madison review to help you determine if this dating site is suitable for you. Our review covers the site's features, membership options,…